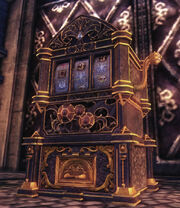 Battle Machines can be found in the capitals of both factions. They can be used to obtain useful items.
Battle Coins are needed to use the machine. They can be acquired as rewards from battlegrounds.
Using the Battle Machine
Edit
Select the tier according to the amount of Battle Coins a character wishes to spend.
Click on the lever to spin the wheels of the machine.
The item won from the machine will be placed directly into the character's inventory.
Contents of the Battle Machine
Edit
The item assortment of the Battle Machine is changed in regular intervals and it can also be influenced by ongoing events, such as the Battle Machine Bonanza.
However, the higher the selected tier, the higher is the chance of receiving more valuable items.
Ad blocker interference detected!
Wikia is a free-to-use site that makes money from advertising. We have a modified experience for viewers using ad blockers

Wikia is not accessible if you've made further modifications. Remove the custom ad blocker rule(s) and the page will load as expected.