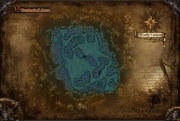 Description
Edit
Windy Canyon is one of the places where a major battle between the Earth Clan and the Fire Clan took place.
The brilliant lights and rare plants of this area attracted the interest of many scholars. The scholars arrived to research the area, but when a crystal mine filled with mysterious power was found, things changed drastically. The love for plants was replaced by greed.
Azuni and Crunn continuously fight over this region for control.